In-house Dental Plan
This plan is available for our patients who do not have a private or work related dental plan.
Find More About The Plan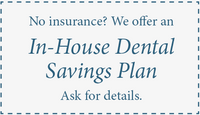 Dr. John Choi
Every year since 2008, Dr. Choi has been ranked one of America's "Top Dentists in Implant and General Dentistry" by the Consumer Research Council of America.
His goal as a dentist is to create trusting, lasting relationships with his patients as he provides exceptional care.
More about Dr. Choi
Testimonials
The best all around. I switched to Dr. John 6 years ago and refuse to go anywhere else going forward. Always a pleasant and friendly experience with the staff. He will explain things very well if you have any issues and make sure you get the best care. Knows his stuff. A1 and will always make time for you in a pinch.

Joe G.
Dr. Choi is by far the best dentist that I have had an opportunity to schedule an appointment with. As someone that is incredibly afraid of dentists, I can say that due Dr. Choi's mellow and relaxed nature it has been very much beneficial to relieving nerves and anxiety before the procedures. After giving your teeth a deep analysis, Dr. Choi is straight forward with his patients on what the leading steps should be. He even gives YOU options to tackle the procedures in order to make YOU feel most comfortable. During the procedure, Dr Choi works fast in order stop as much of his patient's distress as possible, but also puts high emphasis on the quality of his work and will not let you walk out until he is happy with the quality of your teeth. Overall, I was amazed by the overwhelmingly positive experience I had under the care of Dr. Choi. No matter what, his patients will always be his #1 priority, Highly recommended if you are looking for a dentist within the area.P.S. very friendly staff at the front desk!

Jason L.
Everyone on staff was very nice, and Dr. Choi was wonderful. Dr. Choi made sure he knew the issue he was looking at fully, explained it to me, and went over a variety of options. I will definitely be going back to his office in the future because finding a dentist I feel comfortable with isn't easy, but I knew I was in good hands here.

Sarah D.
I am SO impressed with Dr. Choi. In addition to being a excellent dentist, he is personable, reassuring and gentle. His assistant, hygienist and receptionist are wonderful as well.

Maureen S.
Very professional and gentle. All staff members are always accommodating and the office is very inviting.

Sharon P.
John is highly competent, and also always takes time to clearly explain my conditions and treatment options. He's been my family dentist for years.

Cy C.
Dr. Choi is proficient in every procedure: from filling cavities and teeth cleanings, to root canals and implants.

Richard K.
I have always felt welcomed and my dentist's skills are good. He takes into consideration my fear of dental procedures and my ability to pay for procedures, pointing out the optimal level of attention to the priorities I can afford.

Raj M.
Your Feedback is Highly Appreciated
Positive reviews from awesome people like you help others to feel confident about choosing Dr. John JK Choi.
Could you take 5 seconds to scan QR code to go to the page and share your happy experiences?
Give Feedback
Our Office
4 Progress Street, Suite A-2
Edison, NJ 08820
TCM Plaza
(between Inman & Grove Ave)